Residential and commercial building in Lazarevac investment in GP ZLATIBOR building of Belgrade. High quality construction at an exclusive location at affordable prices. Luxury flats with quality ceramics, woodwork and flooring. The building has 18 residential units and two stores. TOTAL AREA: 1,235 m2
Read More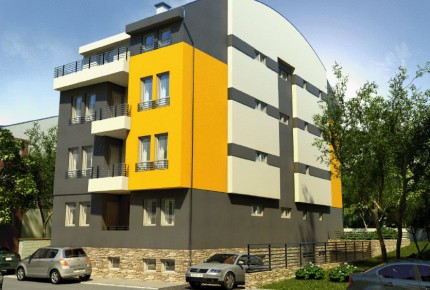 Location: Banja Luka Street No.5 in Belgrade, Centar hill, Zemun Facility ends by the end of October 2011 Total apartments: 11 Total parking spaces: 11 Total area: 985 m2 LOCATION: The building is located in Belgrade, kpbr. 2019 KO VOZDOVAC in the Banjačka street nr. 5 Plot has direct access from the Banjalučka street, [...]
Read More
CC "Zlatibor-construction Belgrade" currently invest in Projects over 20.000 m2. Project in Kamendin - Residential building in Zemun Polje on 15.685 m2 and Residential building in area July 4th, Belgrade with 7.850 m2 have been finished.
GP "Zlatibor-gradnja Beograd" has introduced and applied several Management Systems in the following fields: Performance of all construction works in the field of civil engineering, manufacturing, transportation and installation of raw concrete, producing alluminium and PVC. More information
here
Construction Company Zlatibor-construction Beograd SC looking for locations for the construction of residential and commercial buildings in the city of Belgrade. If you are interested to provide one please fill the form and
contact us
.
There are several locations as a subject of our investments at this moment which are: Buildings for persons with a special needs ''Predah Plus" in Šekspirova Street, number 8 in Dedinje, Belgrade. Total area of building A 2625,00 m2 and building B 1800,00 m2, A+B= 5712,00 m2, Residential building in Radivoja Koraća Street, number 1a, in Vračar, Belgrade, total area of 2000 m2, Residential building in Kamendin, Zemun polje, GP2, in total area of over 10.000 m2, Luxury privat residential house in Laze Jovanovića - Porcije Street in Zemun, total area of 1000 m2, Facade revitalization in Mirijevo, JP ''Gradsko Stambeno'' Belgrade, 6000m2, Commercial and residential building in Lazarevac, buildings 1 and 2, total area over 2000m2

GP "ZLATIBOR-GRADNJA BEOGRAD" počelo je sa izgradnjom energetski efikasnog obdaništa u Grčkoj ulici na Bežanijskoj kosi u investiciji "AGENCIJE ZA [...]
Dalje

Izgradnja REZERVOARA "VRELINE" (GAJ) SA ISPUSTOM U BARAJEVU Zapremina rezervoara: 2x1000m3, gabarita-leva i desna komora 2x(D=16,90m) i gabarita zatvaračnica 12,65×10 [...]
Dalje

Lokacija: naselje Dr.Ivana Ribara na Novom Beogradu Objekat u izgradnji od: 2010 godine Ukupne površine: 8.136 m2 Tehnički  opis konstrukcije [...]
Dalje

Residential and commercial building in Lazarevac investment in GP ZLATIBOR building of Belgrade. High quality construction at an exclusive location [...]
Dalje

Lokacija: ulica Akrobate Aleksića, Blok 1.6, Kamendin, Zemun polje Objekat trenutno u izgradnji Ukupno stanova: 176 Ukupne površine: 15.695 m2 [...]
Dalje

Azil za pse u Kovilovu kapaciteta 350 pasa.
Dalje

Lokacija: ulica Laze Jovanovića-Porcije br.23 u Zemunu Objekat trenutno u izgradnji Ukupne površine: 750 m2 Objekat je sparatnosti Po+P+1+Pk. U [...]
Dalje

Lokacija: Objekat Centralne kuhinje Savski Venac u Beogradu Objekat u izgradnji Ukupna površine: 1.402 m2
Dalje

Lokacija: ulica Ulcinjska br.13 u Beogradu na Zvezdari Objekat trenutno u izgradnji Ukupne površine: 1.234 m2
Dalje